Primary Dock – mid May to mid November
Spitzer Riverside Marina
485 California Ave.
Lorain, Ohio 44052
From Ohio Turnpike Rt 80
Exit #145, Rt 57N proceed NORTH 3 miles on route 57; turn Left on E. 28th St. (Rt 57); proceed 2 miles and turn Right onto Elyria Avenue; then proceed 1/2 mile and turn Right onto Henderson Avenue (Rt 611); proceed 1 mile and turn Left onto Colorado Avenue; proceed 3/4 mile and turn Left onto Driftwood Drive; proceed 100 yards and turn Left onto California Ave.; proceed 1/3 mile to dead end; turn Right (Still called California Avenue); proceed 1/4 mile to River. (At yellow crane and blue hoist – look for huge Spitzer water tower)

From Rt 90
Exit Rt 611 Avon; proceed WEST on Rt 611 for 6 miles to Colorado Avenue (No turn involved at Wendy's Restaurant); continue straight ahead on Colorado Avenue 3/4 mile and turn Left onto Driftwood Drive; proceed 100 yards and turn Left onto California Ave.; proceed 1/3 mile to dead end; turn Right (Still called California Avenue); proceed 1/4 mile to River. (At yellow crane and blue hoist – look for huge Spitzer water tower)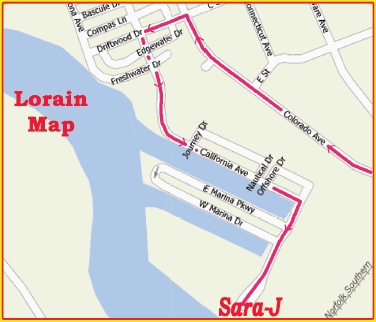 Click on the map for directions.
Secondary Dock – April to mid May
Lakefront Marina
1805 W. Lakeshore Dr.
Port Clinton, Ohio 43452
From Rt 2
Exit at SR 163 (W. Harbor Rd) heading EAST toward Port Clinton, proceed approximately 1/2 mile; when you come to the T (where W. Harbor Rd. ends) turn RIGHT onto W. Lakeshore Dr.;  travel approximately 1 mile heading east there you will find Lakefront Marina on your left.
Double Your Money Back Guarantee!*
*Get the details from Captain Gary
216.346.2654