Lake Erie Fishing Charter Rates for:
A Day on the Sara J include
Rods • Reels • Bait • Experience
NO GAS SURCHARGE on the Sara J
We are not the cheapest fishing charter on Lake Erie.
Trying to compare Sara J to other is like comparing apples to oranges. The average used charter boat is worth $25,000 –
3 of our King Cats are $450,000 Plus Gear.
Twin hull vessels offer a much more stable ride in
ALL kinds of weather which equals a more pleasant day for all!
Sara J has the biggest, the fastest, the most stable and the nicest fishing boats on Lake Erie.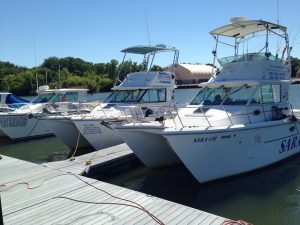 CALL TO BOOK YOUR CHARTER

216.346.2654
Steelhead • Walleye • Bass • Perch
Hands on trolling!

$121 X 6 People = $725 for 4 Hours (3:00 p.m.)
$138 X 6 People = $825 for 6 Hours (3:00 p.m.)

$154 X 6 People = $925 for 8 Hours (5:45 a.m.)
$159 Each Walk-on Special for 2 People* (4 hours)
$300 Each Walk-on Special for 2 People* (8 hours)
(*Prearranged. Call for Details)
Hours and times can be adjusted to fit your schedule.
Huge NEW commercial vessel is a $10 increase X 6 person = $60 additional
CALL TO BOOK your Charter
216.346.2654
Gift Certificates – Any Amount, Any Occasion
Christmas • Birthdays • Father's Day • Bachelor Parties • Vacation Planning
Executive Packages are available which include
Food & Fishing Cleaning
---
Deposit
All charters require a deposit of $200 cash, check, MasterCard, Visa, American Express
(5% convenience charge for credit cards)

Click Here to View & Print Our Mail-in Form
Mailing Address ONLY
Captain Gary Carpenter
6861 Chadbourne Dr.
Valley View, OH 44125
CALL TO BOOK your Charter
216.346.2654
Double Your Money Back Guarantee!*
*Get the details from Captain Gary