If you love Walleye fishing on Lake Erie, and plan on being in the Cleveland or Geneva area of Ohio, give us a call. Sara J offers the finest experience in Lake Erie Fishing Charters. Fishing for over 30 years, Captain Gary and his crew can take you Walleye fishing on Lake Erie. Sara J has been seen on TV shows such as Sports Time Ohio, MA Outdoors, and Helmets Off Cleveland Brown's Show.
Sara J operates 3 tournament winning 34′ King Cat Catamarans able to navigate Lake Erie.
We dock our 14,000 lbs. 900HP 50MPH Cats in Port Clinton, Lorain (main dock), Geneva, and the Cleveland area of Ohio, always where the fishing is good.
Heated & Air Conditioned
KING CAT boats for your comfort!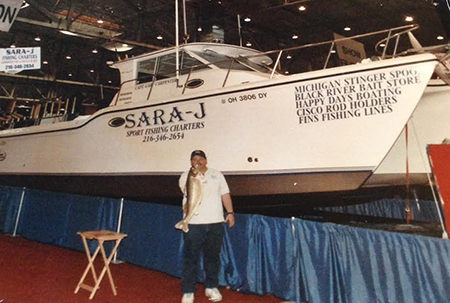 We move from west to east as the Lake Erie water warms for Walleye fishing, Steelhead, Small mouth Bass and Perch.  Sara J's  Lake Erie fishing charters start as low as $121 (based on 6 people). Sara J even has 1 or 2 person walk-on Lake Erie Fishing Charter specials for small groups on the weekends (pre-arranged).
Call Captain Gary for today's special 2 person walk-on rate.
CALL TO BOOK your Charter
Double Your Money
Back Guarantee!*
*Get the details from Captain Gary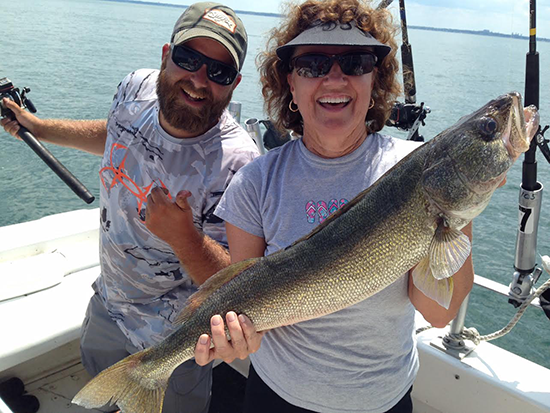 Call Captain Gary for today's special 2-person Walley Fishing charter walk-on rate.
216.346.2654
Put Captain Gary's 30+ years of fishing to work for you on your next Lake Erie fishing trip.
Our Heated & Air conditioned, large, stable, and comfortable King Cat Catamarans are the
ONLY WAY to ensure
EVERYONE experiences a
GREAT fishing charter trip!